When your children are grown adults,
will they thank you for the way you handled your divorce?
Or will they be filled with anger, shame and resentment because of mistakes you made that you will later regret?
Only you have the power to minimize the negative impact of divorce

on your innocent children!

Avoid damaging mistakes and give your kids the positive future they deserve!

Dear Parent: Divorce is bad enough, but when you have children the stakes are higher – so are the consequences of making serious divorce mistakes. Rosalind Sedacca knows because she went through the experience herself. And only after raising her son through successful co-parenting did she become a Divorce & Parenting Coach, founder of the Child-Centered Divorce Network and expert recognized internationally as The Voice of Child-Centered Divorce. Now Rosalind is sharing what she learned going through the divorce experience herself. Like you, she felt the anxiety, confusion, anger, guilt, shame and frustrations of being a divorcing parent. And the enormous challenges of parenting after divorce. You're not alone if you're …
worried about the well-being of your child(ren) after your divorce
coping with conflict or tensions with your co-parent that drive you crazy
feeling insecure about how your kids are handling life after the divorce
wanting guidance in making wise co-parenting decisions best for your kids
unsure about how to handle your fears, anger and other emotions in the months ahead
Relax … there's a solution

You don't have to live with those anxieties or others plaguing you. Because you can benefit from Rosalind's decades of co-parenting experience. And avoid making serious mistakes. That's why she created her Mastering Child-Centered Divorce 10-hr Audio Coaching Program. Why trust Rosalind? When her son was about twenty-two, he thanked her for the way she handled the divorce and co-parenting. After carrying so much guilt for so many years, that was the most rewarding conversation of her life! Rosalind wants that for you, as well!

Wisdom you can listen to again and again – when you need it!

Now you can benefit from the insights Rosalind learned and uses with her private coaching clients. Her Mastering Child-Centered Divorce 10-hr Audio Coaching Program provides strategies, tips and resources not commonly found on internet blogs, websites and articles. You get nitty-gritty specifics, step-by-step how-tos and significant warning signs – all created to guide you through the months, years and decades ahead as a divorced parent (even after remarrying again, should you choose to).

The trusted help – and support – you're looking for!

Based on Rosalind's personal and professional experience, she created the Mastering Child-Centered Divorce 10-hr Audio Coaching Program with Workbook to help you with solutions to your greatest challenges, including:
How to de-fuse conflict with your Ex while maximizing positive communication
How best to handle your kids' questions, depression, arguments and other behaviors
What to expect from children of different age groups – from toddlers through teens
How to take care of yourself and all the emotional swings during this difficult time
How to handle weekly routines, schedules and other responsibilities without losing your cool
Coping skills for co-parenting, single-parenting, dating again and other complex challenges that come with parenting after divorce
And ways to handle many other "sticky" situations you're sure to encounter!
Your children deserve the best parenting possible — especially after divorce.

Don't let them down!

Rosalind just added a new and very valuable bonus to this 10-hr audio program. It's a must-read book she highly recommends to her clients written by a seasoned, child-focused divorce attorney who knows the ropes. You can download it immediately and start implementing his advice to reduce conflict over the kids. For more details and insights about Rosalind Sedacca's Mastering Child-Centered Divorce 10-hr Audio Coaching Program with workbook, valuable audio interviews and must-have bonus for child-centered parenting …

CLICK HERE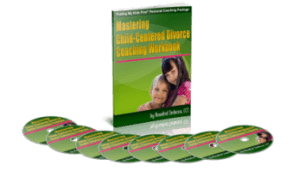 If you want to protect your children from needless hurt and emotional pain … If you want to give them the best possible life after your divorce – check out …

Mastering Child-Centered Divorce 10-hr Audio Coaching Program.

Your name, title PS: Rosalind's specially priced this program at a deep discount for my followers at Children-and-Divorce.com. If you're considering any form of coaching support on divorce and parenting issues, I encourage you to take advantage of this low-price offer now.